I have been inspired to jump into 2011 and
clear
out the clutter in our home. And this weekend has been amazing! Both my husband and I have been purging stuff left and right. Now we're no where near done, but we have been forced to slow down because our trash cans are overflowing. One of the many things I did was tackle the worst "junk" drawer in our house, my makeup drawer. This was the first assignment in
A Bowl Full of Lemon's
21 Days to Getting Organized Challenge.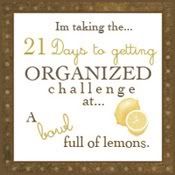 I learned about the challenge from my
BFF
and thought it would be a good jump start to clearing out clutter (well honestly, at first I thought 21 days was way too aggressive for my house, but then I decided I should at least give it a try). I have to say I am surprised at how much junk was in the drawer, how quickly the drawer was reorganized (just over 30 minutes) and how good it felt. Stay tuned to see if I can keep up......